Stevey Hammond popped out of goal for the second and Roger dogs stepped in between the sticks to don the goalie gloves.
Roger's boys on pitch were proving their worth to the Towners as they both attacked together on may an occasion to bring Lakeside down. Many a feathered pass or silky skill was administered on the pitch as well as Dans crunching tackles at the back and Bens steaming rifle-shots slamming against board and post. Their efforts came good eventually though as they both nabbed decent goals from the game.
It was Hammond who made his presence felt immediately though as his silky footwork in front of goal created endless opportunities to shoot and shoot he did to take away a hatrick of well-deserved goals from the game.
At the end of the day it was John McGhee's night as he found himself in space and involved in many an attack, almost always racing forward up the pitch to pass and shoot his way to a final tally of five impressive goals. The step-in captain was inspirational in his play throughout the lot of his game as he attacked and defended all the way through. Even with five goals John didn't forget his defensive duties, always managing to stick the boot in and usually come out on top.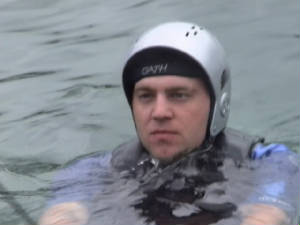 Fermin watched from the sidelines as the Towners breezed to victory
Player Ratings
John McGhee - Played his heart out for the Town with everything he had and came out smelling of roses. An absoloute classic performance takes McGhee to leg status. Oh ref.
Roger Dogs - Excellent performance from Rog, a nice first half out on pitch, full of those battling tackles and midfield runs backed up by a wicked second hald performance in goal, reminiscent of a young Mikey Fermin! Proud night for the dogs.
Ben - Many thanks to Ben for playing such a good game for the Town with his attributed performance on the pitch. Had an absoloute rocket of a shot on the left peg which forced some good saves from the Lakesdide keeper and some loud pings when hitting the post.
Dan - Sturdy and consistent performance at the back as well as some excellent forward play when linking up with the likes of Ben, McGhee and Murrell. Had a good eye for a decent pass when releasing players onto the attack.
Stevey Hammond - Nice performance in goal for the first half by making some good saves using the vision of the elders to send players on the attack when rolling out. Coupled with an excellent show out on pitch in the 2nd by scoring the hatrick.
Jimmy White - Some excellent passing throughout the game and some excellent defending at times, throwing himself into opposition players to come out with the ball! Was unlucky not to take a goal away from the game with that stinger of a shot Jimmy employs.
Rickee Murrell - 2 goals John McGhee, not quite five eh!!!