Romford Town waltzed into the Goals complex last week breathing a sigh of relief as they realised the team they were playing had a pants name. Usually symbolising a bunch of jokers, the stupid name lived upto it's reputation as Romford Town faced a rubbish team with a rubbish name.
With only 6 players the Towners were without most regulars for the 2nd week in a row, DMK working late, Mikey Fermin unable to shake a hand injury for the clash, Honzerelly was revising or something and Hammond was out to injury. With only 3 players a day before the game, John McGhee stepped in to lend a recruting hand and managed to secure the services of Jimmy, his brother Gary and Garys mate.
The Towners started with Dogs in goal as manager Rickee Murrell expected an equally compelling performance from the outfielder after his 2nd half display between the sticks in last weeks game.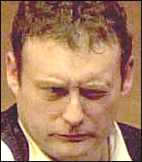 It was nice to see Jimmy back with the Towners