After a poor start to the Season Romford Town seem to be back to the norm; beating teams that think they're all that and a bottle of Don Pom. A hiccup at the beginning of the night left Romford Town and their opposition waiting about half an hour for the game to start. The wonderful Goals had planned excellently for the eventuality of one of their referees not turning up by letting Romford Towns very own Stevey Hammond ref the game as well as the game afterwards. The boy done good although not much whistle work was required.
At the absence of the Romford Town legend a fitting replacement was found in the superstar dribbler . Crane was also unable to play and Mikey Fermin was welcomed back to the fold to fill the gap between the sticks.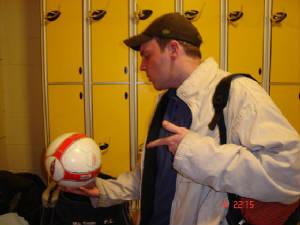 Mikey Fermin lets the ball know who's boss
The Romford Town players had a mare of a first half though. DMK was playing injured, Murrell was playing shite, Honz was forgetting to play and concentrated on shouting and Logey, McGhee, Dogs and Fermin were the only ones that kept their heads firmly in place. Still, the deficit increased against the Towners with the score at half time a worrying 3-1 to Springfield.
Romford Town are becoming better are coming back from the jaws of defeat and this week was no exception. Roger Dogs was soon on the attack and ready for action as he made space in front of the Springfield goal and just got a toe to the ball to shoot. The shoot was destined for the corner but the post got in the way and rebounded the ball back out the other side.
Honz and McGhee had chances and took them too, the second half a lot more successful than the first. Romford Town looked like a new team. Some superb passing took place, DMK, Murrell, Honz and McGhee usually playing away to attack and defend. Both McGhee and Honz took two goals each to complete a fine performance.
It was Mikey Fermin in between the sticks that took the MOTM award. Some excellent saves and general goalkeeping excellence really kept the Towners in the game. Shot after shot came flying in like rockets but Mikey was equal to most of them, beating them away or cathing to hold onto the ball.