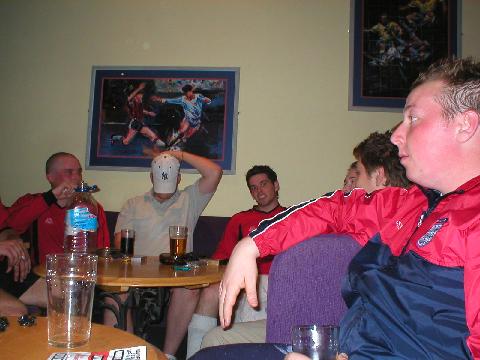 Thanks for looking lads
Player Ratings
Paul Crane - Couldn't ask for more from Crane on Wednesday, he improved his own game and went the extra mile to make save after save of acrobatic variety. And of course a welcome return of the 'MOTION' call. Man of The Match this week, well done Paul.
Chris Jones - Really lit the field up in the first half and set the standard. Tireless running, tackling, shooting, yes a good all rounder from an in form Jones. Big up yourself.
Roger Westwood - We wasn't to win this one so Rog didn't want to waste his first goal in a lost match and so he only came close for us a few times in this one. Some good running and passing out there on the left this week.
John McGhee - Seemed eager to follow up his first goal for the club as he kept booming them in from range, even the 2nd half kick off set-up and shot was on target. Some especially excellent closing down from McGhee this week.
Benny Brace - Bit of a quieter one this week but not without his charm, still done a couple of players though and those heavy footed tackles will always be invaluable to the Towners. Solid enough this week.
Dan Monteith-Knight - Some good footwork and skills out there. Had a couple of nice shots aswell. Early in the first half Dan came flying across the goal to stick the foot in on a rebound but it sadly went just wide.
Rickee Murrell - More shots from wonderman and general shy bloke Murrell. Had a steady game with some good work on the ball. Has a big cock.
Murrells starfish impression was shit.
The Fans - Stevie Hammond, Mike Reade, Stuart Leonard, Peter Clayton, Stu Whittaker and Barry Evans. - Thanks for coming over, the club would like to welcome you back at every opporunity for more offensive shouting and encouragement, cheers lads!
By the way, moments after the picture to the left was taken, Giants manager Stuart Leonard officially invited Romford Town and it's players to join the Giants on a tour to what is likely to be up near Readey's uni. No dates or definates have been set but you'll all be informed via the site as soon as I know.