Romford Town. A team known for their excellence on the field of play, a team known for their improvement, season after season, but mainly known as being a relaxed team that play to have fun rather than to win. Tonight, the pain of the first loss of the season was evident with every Towner as they bowed out of the game in the second half to concede victory to Mouldy Old Dough.
Positioning, runs, communication, shooting, passing and tackling all played a factor in the game that was not to be. At times, they were excellent. At times, not so good, but as a devotee of Romford Town and the values the club hold I would prefer to believe that the better team on the night won the game. Intitial shooting chances in the first 5 minutes for the Towners were unlucky not to hit the back of the net after the ball slammed against the posts and bar multiple times. A Stevie Hammond penalty had set things right intitially and put Romford Town in the lead. The continued pressure had not rewarded the Towners for their hard work and they began to concede.
The deficit never left Romford Town too far behind as the Towners kept the pressure on enough for Chris Jones to win a shocking penalty and convert from the spot. This lit several fireworks within the Mould Old camp and things got violent from there.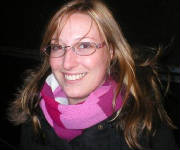 The most violent Towners fan in their history was always causing trouble at the games.
Not too long after, the end of the first half was upon the Towners and they regrouped with a quick discussion on what to do in the 2nd half. 5-2 down, the Towners came out and started promisingly as they brought the game back to 5 all with another penalty and some open play goals, one particularly fine goal created by Rickee Murrell. Out on the right side and bearing down on the keeper the angle seemed too tight for the in-form keeper not to be able to cover it with ease. Murrells sight allowed him to see a well-positioned Hammond out on the left as a pass across the length of the area found Hammond apply the cool, calm finish into the far corner.
Tackle after dirty tackle then insued as the play continued a rather violent tussle just outside the Towner area involved Stu and some skinny arse-licker as the Mouldy player began to get frisky with raised hands against the legendary Pac. Pac wasn't having it though as he raised hands (still off the ball) and chucked the geezer on the floor. The ref didn't see a thing but the noisy bitch behind the goal let her lungs fly as she began to mouth off at the ref.