Murrell, the prodigy of Romford Town, was forward to pick up on a Danny Monteith rebound, although marked heavily, managing to stick one past an in form Hi Sue Utd keeper.
More attacking play from all of the Towners followed, McGhee coming forward to have a go, as well as Murrell, Monteith and Hammond but all shots were hitting posts or being saved. The frustration mounted and then lanky bollocks on the other team put Hi Sues final goal past Honz who's play had been inspiring all game. Some shots flew at him from all over the place with precision accuracy and so much speed it was untrue. Jones stopped the score from being 16-3 instead of 6-3 at the end.
All in all, the ref was absoloutely shat, Hammond and McGhee having to argue with him at points in the game. The ref definatly didn't help the Towners, for example, at the second half Towner kick off, one of their players was several feet in our half before the ball had even been kicked, resulting in a Steve Hammond miskick and a free kick to Hi Sue. The refs a bald, fat cock, so there.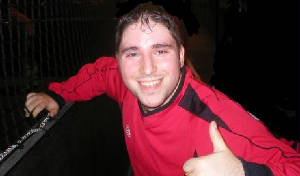 The positive attitude of Rickee 'Mendoza' Murrell is the only way forward for the Towners
Player Ratings
Stevey Hammond - Takes the man of the match reward this week after a wicked performance, always trying, always attacking and bursting forward to try and bring the Towners back into the game. Was unlucky not to get a few more on the sheet but his crunching and defending was just as important, well done mate. Goals - 1.
Chris Jones - Superb effort from between the sticks this week as Jones never stopped the chatter and made difficult saves look easy. Some nice rolling out helped the outfielders onto some decent charges but couldn't be blames for any of the goals.
Roger Westwood - Excellent work from Rog on a night when it was needed. Especially evident was his continual closing down of the opposition and then usually coming out on top, good nights effort.
John McGhee - The crunchmaster was in the way all night last night, jumping in front of shots and getting into the feet of Hi Sue players aswell as just slamming into them with the Romford Raiders body checks.
DMK - Good night for Dan, his recent fitness boost from working out gets more evident every week, didn't give up all night and took the goal well. Goals - 1.
Rickee Murrell - One goal but a quiet game. Goals - 1.