After finishing 5th in the 3rd Division last season, Romford Town are yet to set their divisions alight since the 1st and 4th Seasons and season 7 seems the right time to make a comeback.
A team with injury problems, unavailable players and a lack of team spirit all seemed to have contributed to a poor season for the Towners. At times when the Towners with a full team should have won, games were lost and almost drove Towner manager Rickee Murrell to quitting the club.
"The less I hear about last season the better," says Murrell, "Although it was out of most of players hands it just seemed difficult to be turning up every week with players that I didn't know, or important gaps in the team which led to defeats. The spirit of Romford Town that was with us in Season 1 seems to have dwindled and it has affected our performances."
Season 7 see's the unlikely return of superstar goalkeeper Paul Crane and the departure of fans-favourite Mikey Fermin. "Mike replaced Crane around halfway through Season 3 and has been an inspiration on many a night. He has taken a few MOTM's away and been the star of a good few match reports but sadly the time has come that Mike felt he had to move on. On behalf of the club, the players and of course myself I wish to say a big thank you to him for all his valued efforts for the Towners. He had some good times and some bad times with us, especially with injuries, but this was just an example of his steadfast attitude to his love affair with the club. After speaking to Mike a few days ago, he has made it quite clear that he will delightfully step in for any goalie absences we may experience in the future and help out whenever he can, but has now completed a transition from player to fan where his injuries should be safer."
The Town bids farewell to a respected athlete - Mr Mike Fermin
Paul Crane looks to fill the number 1 position on a permanent basis as he makes a grand return between the sticks for the Towners. Murrell commented, "I'm delighted that The Crane has made the decision to return to us when we needed him the most. I spoke to Paul several times regarding his return and he seems glad to be back, explaining that he has missed the Town and the magic that comes with the club. Crane has rejoined us at the back end of last season, showing that none of the cats skills have left him, pulling off excellent saves, using communication as a valuable tool and rolling out with power and precision. I only hope that his attendance is of a similar standard as I am aware of his rugby commitments and possible injuries."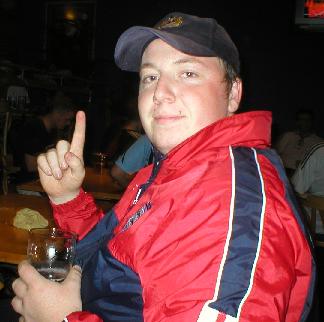 The Crane returns
The normal team for the Towners this season will include;
The Crane
The Honz
Roger Dogs
DMK
John McGhee
Stevey Hammond
Rickee Murrell
The usual replacements will be at hand for the Towners, including such stars as 'The Wideboy' Lenny Leeson and Jimmy White as well as the occasional and possible return of Stu Whitaker and after landing back in the UK a few weeks ago Tom Davies. Rogers mates Ben, Gary and Dan may also help out in the coming campaign as well.
'...with the Towners comes the fighting spirit to conquer any team that dares stand in their way. On their day, they're unstoppable.' - Rickee Murrell