Occasionally, Dogs turned it on to send the odd leg flailing towards many oncoming shots to save low. Some howlers were present too. Dogs reported around 5 nutmegs during his stint between the sticks but was proud nonetheless to play his role for the Towners.
The second half continued much like the first with shots pouring in from all over the pitch. Lenny and Wayne tried their best to make inroads from wide positions with some fancy footwork but space for any decent shots were hard to come by.
It fell to the final minute for the Towners to redeem themselves. An inspired run up the right hand side of the pitch saw Morris dribble past and around several Panna players and slip the ball through to a well-positioned Murrell just outside the area. As pressure closed Murrell found just enough time so send the ball flying past the flailing keeper to bury the ball into the bottom left hand corner. The Towners cheered and Murrells cartwheel finished a spectacular move.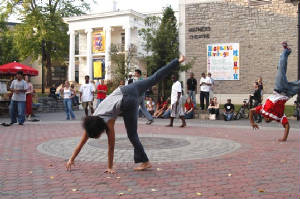 Murrell was always one for setting off new trends!
Player Ratings
Wayne Morris - This weeks man of the match with his never ending running was superb. Shame he didn't take any goals from the game as it would have capped off a fine performance.
Lenny Jenkins - Kept up the hard work down the side of the pitch and on the wings. Some skillful play that was good to see as well as a few unlucky shots.
Chris Wade - A defensive mystro, Chris did well to hinder the progress of any opposition coming his way. Always quick to dive in and take no prisoners Chris was a joy to watch!
Roger Dogs - If I was honest and I'm not, Roger had a wicked game in between the sticks. Seriously though, some of those shots were unstoppable and even the Crane or Fermin on their day would have had trouble stopping some of the boomers
Tony Murrell - Nice work from the little bro, always willing to commit to steaming tackles to take the legs of people even twice his size! Cheers bruv.
Rickee Murrell - Couldn't help looking fat and maybe even disabled. Good goal.