Still unbeaten after 3 weeks, Romford Town march on towards another league drumming in division 3. The Towners were unlucky on the night as they worked hard, only to be pushed back by a bad refereeing decision and the fitness of darts players.
The match started as ever with a slow, tight game played by the battling sides. Currently bottom of the league, San Miguel, showed a quality that overstated their league position. With their fitness high, Romford Town struggled to keep up but thankfully possessed more skill and class on the day.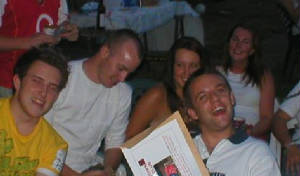 Seriously though, what a presentation!
From the off though, McGhee was to be denied three superb attacks. Firstly his shot from the off was boomed towards the top right hand corner of the goal only for the defending keeper to save well. His other two shots from open play were unlucky to go in but merely troubled the keeper.
More skillful runs and passes came from the Honz as he tried to weave in and out of the Miguel players to get into shooting positions but his efforts were initially fruitless.
It took the skill and magic of Murrell to come forward and open the scoring by setting up the first goal. As the bouncing ball came into feet, Murrell tried an audatious through the legs flick which found the feet of fellow player Honz and with no mistake that man Jones stuck it past the helpless keeper.
A good goal that was proving to be quite valueable as the Towners struggled to mount attacks to try and extend the lead. It wasn't too long until the opposition came forward more often. Their shooting had been good but Stevie Hammonds saves had matched them. His rolling out had kept the Towners working as he passed into space for Towners to run onto.
Into the second half it was Murrell to come good again as he came forward set up by a fine pass from the Pac. Controlling well, Murrell took the goal as he boomed it past the keeper into the top left hand corner of the net.
With the score 2-all it was the Towners that were to clinch a goal to take the lead once again in the form of a well taken goal by Honz. As they continued on into the final minutes the ref was the one to change the course of the game as DMK found himself following a Miguel player into the area only to be penalised by the ref, who otherwise had a good night.