The second half didn't begin as well as the first for the Towners as they started to let in goals. A speedy no-fuss attack from Allegro gave them confidence as they struck hard to send one into the Romford Town net. Minutes later they added another as the Towners defence were unable to stop what seemed like the beginning of an onslaught.
The Towners managed to turn things around though, as they reminded Allegro who the daddies were; Stevie Hammond coming forward to grab his hatrick. Allegro replied with another but the Towners were back on form to send them straight back to hell as midway through the second half Danny Monts popped an outside-of-the-boot curler into the Allegro net to cap another fine Romford Town move. More tricks from Danny later in the second and great team play from the rest of the Towners helped Hammond extend his personal tally to five as he continued to bang them in.
But no-one saw the magnificence that was to come moments before the end of the second half.
Another Romford Town attack mounted with wonderkid Hammond at the center of it all again. A flowing move from the Towners sent Hammond through across goal to pull off a move so cheeky, it finished Allegro off with frustration. As Hammond came across goal, he flicked one leg round the back of the other to chip a wonderfully placed shot into the top right hand corner of the Allegro net, past a well and truly done keeper. Goal of the Season without fail.
Hammonds excellence capped off a superb game for the Towners which leaves Romford Town 4th in Division 3 but with it all to play for.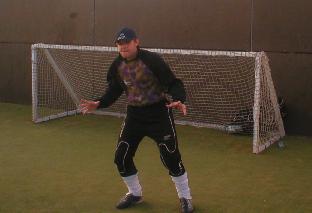 Jones was never shy about his desired girth.
Player Ratings
Stevie Hammond - The wonderkid does it again with another terrific performance for the Towners. Some lovely goals, some lovely play and a great arse.
Chris Jones - Didn't have a very busy day in all honesty but did well when challenged. Some nice saves and some good rolling out tonight. Better get better for next week!
Stu Leonard - Battled well for the Towners and intercepted those 50-50's and sprung the counter attack more than once. A reall attribute to the team on a night when a goal would have deservedly capped off a sparkling display.
Roger Westwood - Another crunch game in which Rog did well to prove his worth for the team he loves. Came close with the shot but played a good game all over the pitch.
Dmk - Another decent game of skill and shooting from the man with the plan. Was strong on the ball and seems to be improving with every game with his skill. Scored a nice goal to top things off with aswell.
Mike Reade - An inspired return to Romford Town as he came to 'the experience' one last time before going back to Uni and an accomplished outing it was. Scored two lovely goals and battled like a ferocious maniac hacking at every player. Good work.
Rickee Murrell - Kept running into space ALL night, never gave up and was unstoppable. Scored a nice goal aswell. Was the absoloute bollocks, just like everyone really.
Thanks to Benny for coming over injured. From myself and the rest of the team, stay injured we wanna win,...I mean get well soon fella, we all love you and want your babies.