Romford Town stepped up to the plate to face their fifth game of the season with determination and a set plan for nights entertainment. The night was to be about going back to footballing roots rather than getting in a ruck every 5 minutes and O.A.P.'s were the opposition to do it against. Known mainly for their fitness, fast play and influential manager/captain they forced the best first half of Romford Towns history.
With only six men to battle the cold night and a competent team, Romford Town were still hopeful of a decent result but mainly to enjoy the game and play some good football. The game was initially very tight, any OAP runs were followed and attacks were quickly countered into half-chances for the Towners.
They were few and far between but a good running and passing display from the likes of Murrell, Honz, McGhee and DMK opened up a balanced defence to release a few shots but none came to fruition. An early OAP attack caught the Towners on the backfoot though and they trailed the game 1-nil for some of the half until Towners superstar McMonteith-Knight came out of no-where to bring things level. Their keeper slightly fumbled but, just like kids in a maths lesson, they all count.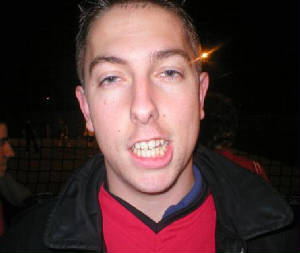 Drunks had always been a massive problem at Romford Town
Romford Town held fast as the scores remained the same and the game was deadlocked. Chris Jones had been having the most chances for Romford when he and Stevie Hammond tried to use route one to exploit the OAP defence. Their defence was looking good though so it was difficult for Jones to penetrate as he was usually pushed wide and any inside runners were marked tightly.
Still, he attempted the shots, using his foot and leg like a crazed mans whip. Whenever he could he stepped inside and tried to get in behind the defence to lay the ball into the back of the net but it was not to be. Their defence was too strong and organised and only a spattering of shots were allowed to get through.
The play continued along it's tight path but the scores remained the same thanks to the excellent goalkeeping skills of Steveie Hammond. His work between the sticks was pretty much keeping Romford Town in the game, reactions that of a savage animal and reminiscent of a young Paul Crane.
The six man disadvantage was being coped with well by the Towners, each man doing his bit to make sure the game remained within our grasp. OAP's are probably the fittest team in our division and didn't begin to lapse at any point. Any opening created by the Towners was made via pure skill and good looks as the OAP's just weren't making any mistakes at all.